New Zealand Social Housing Forum
Unitec hosted a rewarding day in Auckland, New Zealand, convening a Social Housing Forum by presenting talks from a broad range of people and adding an enthusiastic and inquisitive audience.
The Te Noho Kotahitanga Marai venue at Unitec Auckland, was a constant and powerful reminder of the social content needed in housing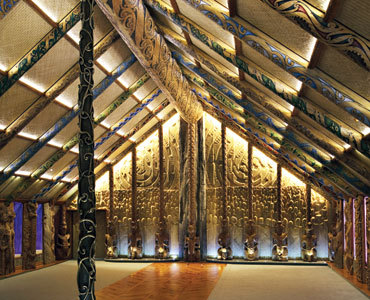 Images: Unitec
Speakers on the day were: 
Phil Twyford is the Labour Party member for Te Atatu and the party's spokesperson on housing, Auckland and transport.
"I believe everyone in this country of ours deserves an equal start in life, regardless of what jobs our parents have, what suburb we grew up in, what colour our skin is, what god we worship, what sex we are or who we choose to love. That's why I believe in things like public health…."
Rau Hoskins (Ngati Hau, Ngapuhi) is a director of the Auckland practice Design Tribe. Much of his work is concerned with Maori community based projects, especially in education. He leads Te Hononga, Unitec's Centre for Maori Architecture and Appropriate Technologies. 
"My vision for sustainable living is one where the dimension of 'cultural sustainability' is integrated within broader notions of environmental sustainability."
Philippa Howden-Chapman is a Professor of Public Health at the University of Otago in Wellington. She is the Director of He Kaianga Oranga/Housing and Health Research programme and The New Zealand Centre for Sustainable Cities. She has published widely on topics related to health and the built environment.
"Helping to make the link between housing and health and developing evidence to show that it can make a difference to families' health is a very practical way of making an important difference to people's lives
Hamish Keith is a prominent New Zealand writer, art curator, critic and social commentator with an interest in architecture and much else.
"a subcutaneous fat of bureaucracy into which great ideas are absorbed and never seen again."
Pip Cheshire is a Director of the multiple award winning practice Cheshire Architects. He is the incoming President of the New Zealand Institute of Architects.
"an architect gives you more value per square metre because every square metre works harder."
Healthabitat: an Australian based company specialising in environmental health and design has recently produced Housing for Health – the Guide.
The moderator and organiser of the day's event was Tony van Raat is an Associate Professor and head of the Department of Architecture at Unitec, Auckland NZ