Nepal School Toilet Design Guide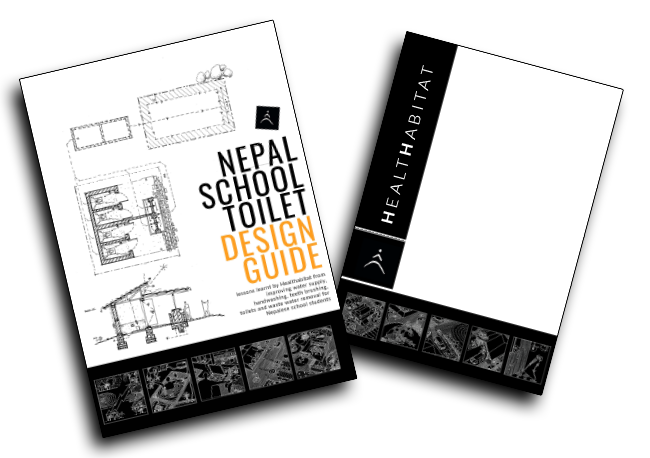 Available for sale to fund school toilet maintenance
&
Available to view online, please consider making a donation!
GET YOUR COPY  NOW!
The Nepal School Toilet Design Guide
Lessons learnt by Healthabitat from improving water supply, handwashing, teeth brushing, toilets and waste water removal for Nepalese school students
What is the aim of the design guide?
The purpose of this design guide is to put in one place all the work, lessons learnt and thinking accumulated by Healthabitat during its work designing and building school water supply, handwashing, toilets and waste disposal systems in Nepal since 2015.
Over this period of time, the work, ideas and expertise of dozens of students, plumbers, other trades and local communities have helped to create a successful and robust toilet design. This includes aspects such as the sizing of septic systems, local adaptations for soakage trenches and the modular sizing of toilet cubicles.
This design guide has been created with the volunteer support of many former Sanitation Studio students, tradespeople, Healthabitat directors and general Healthabitat supporters.
Who is this design guide for?
Healthabitat to use as a comprehensive reference document for future projects.
Nepalese and international NGOs working in schools and communities in Nepal.
NGOs working in other countries to learn about the Healthabitat process.
Students and volunteers to understand the complex parts that make up a 'simple' design to improve health.
How is the design guide being disseminated?
30% of the printed books will be supplied directly for free dissemination to our Nepalese project manager for NGO's and organisations carrying out similar work on the ground in Nepal.
20% of the printed books are set aside for staff, donors, students and teachers.
50% of the printed books will be for sale to directly fund a 5 year Nepal school maintenance fund.
The design guide is for sale, with 100% of the sale being donated to the maintenance fund.
The guide is being offered open source in a digital copy for students and people who are interested in using the work for educational and project purposes
Can you help fund maintenance?
Buy a book - 100% of book sales go directly to funding maintenance of toilet projects at 4 schools ( 25 toilets)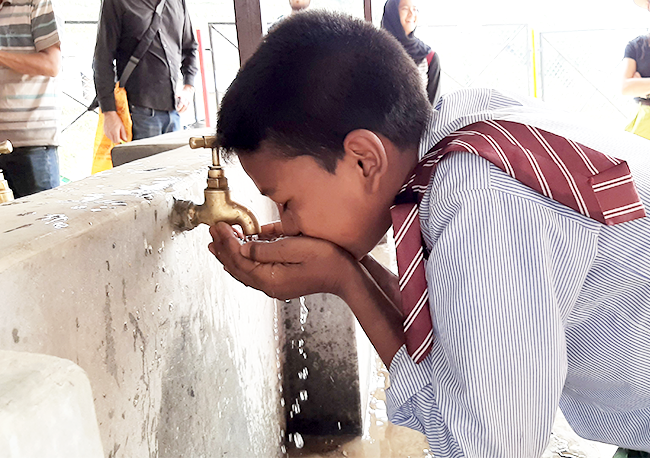 A 5 year maintenance fund plan
Four schools (25 toilets) where Healthabitat has completed sanitation projects are still successfully providing reliable sanitation and handwashing facilities to hundreds of students aged 4-18 years old.
We would like to continue to support these schools because:
Healthabitat has seen over the past 20 years the value of repair and maintenance programs ensuring hardware continues to be usable over its life. As soon as one part fails, often the whole system is compromised and becomes unusable.

These schools have little additional money for ongoing maintenance and repairs and if any part fails it is a challenge for the schools to gather enough money to pay for this unless it has the support of donors

Healthabitat has the privilege of still working with our Nepalese project manager who has been involved with these projects since day 1 in 2007, who will be providing ongoing support and coordination for the repair and maintenance program.
The 5 year maintenance fund of $18,500 AUD can help to fund:
1 | One trip for 5 years by Nepalese Project Manager to all four schools to:
Replenish or replace toolkits, cleaning equipment and restock hardware such as slide bolts, handles, taps
Carry out the maintenance survey + fix of all water supply, toilets, handwashing and waste systems with the school's dedicated maintenance manager and train any additional maintenance managers 
Collect maintenance data from the checklists and document design performance and fail points to feed back to Healthabitat to inform future designs, design guide revisions and gather data on performance and function
Could cost approx 30,000 Nepalese Rupees per school per annum | 4 schools for 5 years = $6,800 AUD
2 | For major maintenance/repair issues at each school:
Unforeseen issues (despite best attempts to mitigate the risks) occur for various reasons such as a truck accidentally driving over a septic tank, a toilet pan cracking or a door being damaged and broken. Regardless of the reason, the school should be able to fix the item, so the whole facility doesn't become unusable and people's health, especially children, is affected.
Cover the costs, travel and time for the Nepal project manger and 1 x tradesperson and material allowance to visit each school and fix the failure
Cover costs of trade training in-case familiar project trades are not available and the PM has to train them on the project process and details (especially septic tanks and soakage trenches)
Could cost approx 50,000 Nepalese Rupees per school per annum | 4 schools for 5 years = $11,300 AUD
Potential Maintenance Cost Breakdown & Scenarios
Nepalese Rupees
(could cost)
Australian Dollar
AUD
MAINTENANCE/REPAIR POTENTIAL COSTS
A
Additional trade ie. carpenter/plumber, time, meals
20,000
$226.00
F
Vehicle costs to remote school
20,000
$226.00
B
Door and hardware cost
10,000
$113.00
C
Toilet pan cost
3,000
$34
D
Soakage trench repairs
125,000
$1,411.00
E
Re-stretch insect screen mesh and re-install window
20,000
$226.00
MAINTENANCE/REPAIR POTENTIAL SCENARIOS
1
If door is damaged or broken, must buy new door and take carpenter to site to remove old door and hardware and install new
50,000
$564.00
2
If wc pan breaks – need to break floor render, remove and
plumb in new toilet pan
43,000
$486.00
3
If mesh rips/breaks, need to remove entire window and frame and restretch and install
40,000
$452.00
*costs converted december 2022
Want to make a donation towards maintenance?
Help maintain 25 toilets across 4 schools for hundreds of Nepalese children by making a donation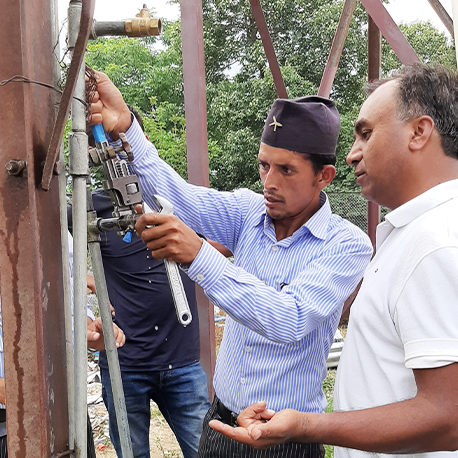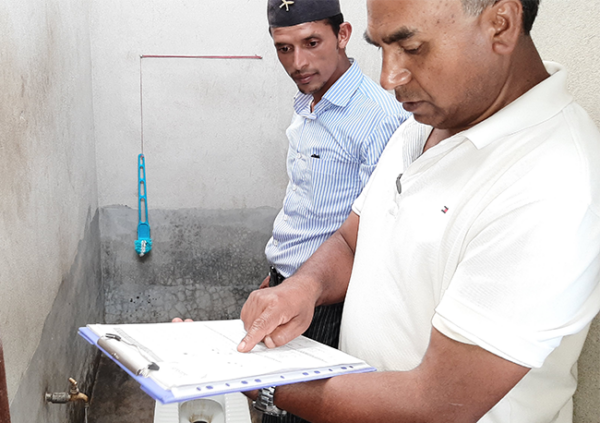 See the digitial version
If you would like a digital version of The Toilet Guide please contact info@healthabitat.com with a request and consider making a donation towards the maintenance fund.
Read now!
Books are posted from Sydney NSW, orders after December 12th cannot be guaranteed to arrive before the holiday period | If you have any issues or questions please contact bobbie@healthabitat.com directly