Student Reflections – Sanitation Studio Nepal 2018
Reflection and photos by Sahibajot Kaur

I wasn't sure what to expect, as I stepped onto the tarmac at Tribhuvan International Airport at Kathmandu, fumbled my way through immigration and walked out the doors into a familiar chaos (I had just come from India). But what I did know, was that I was so thankful to finally be attending a Healthabitat Sanitation Studio – something that had been on my list of 'must-dos' for a while. I also knew that the next seven days would be full of experiences and learning I'd never forget. I was ready to see how 'humanitarian architecture' really worked. I, too, wanted to experience the legacy of Paul Pholeros.
It's now been almost a year since the trip, and it's safe to say that amongst completing my Master of Architecture thesis project, working, running clubs and societies, and travelling, I've had enough time to reflect on our week-long studio up in the mountains of Nepal. Furthermore, receiving photographs of our designs under construction by locals, is simply surreal. I find that, as Architecture students, many of us crave to do work where it makes a real difference. To actually have had the opportunity to do so, is, again, simply surreal. I am realising now, that it was an opportunity that afforded me life-long relationships, connections, and a rehashed worldview.
So, as I scroll through the latest construction report – received today – and look at bricks being laid, earthquake-resistant banding being poured, and timber frames being erected, I am reminded of my time traversing Bhotenamlang's steep, terraced terrain. Feeling out of breath and being surprised at how the locals of this beautiful village did it every day. I am reminded of observing the terraced landscapes from afar, on the drive from Kathmandu to the Bhattedanda (where we stayed in a guesthouse perched atop a hill), and then being in them, once we arrived. Seeing that the carpets of green were in fact crops in the soil that fed the economy of the place.
I am reminded of statues of Shiv Ji, the smell of daal, and the confronting contrast of distressed buildings against a glorious Himalayan backdrop. I am reminded of why we were there, why it mattered, and why it matters now more than ever.
Not many people are willing to get their hands dirty, designing toilets in the name of dignity, but since 1998, Healthabitat has been. So that's exactly what we did.
Our site was the village school. Before we designed, however, we learnt. We learnt from local building methods and HH's past projects, by visiting various sites, observing, recording, and talking to locals, as part of a post-occupancy exercise. It showed me the value that our project would hold, in the lives of the children who very soon – just like us – would not have to think twice about using the toilet at school. In the lives of girls – just like me – who would not see their period as an obstacle in attending classes. Basic dignity.
As the days passed, and we took our newly-acquired knowledge of timber, water, joinery and septic tanks to site and then to the drawing board, a simple, workable, cost-efficient and uplifting design emerged. At the time, however, between all the measuring up, string-pitching, discussing, drawing, eating, laughing, falling sick and throwing up, things were blurry and I was unable to see the significance of what we presented to the school on our final day. Just like a university project, it was drawings on a page – yet another great idea that was too intangible to feel real. Too unbuilt to feel like architecture.
Until now.
It's not every day that something you work on as a student, is translated to brick and mortar – a brick and mortar with such weight that it is life changing for people in ways you can't imagine.
As I scroll through the latest construction report, I am reminded of walking on the empty earth where the half-built toilet-blocks now stand. And I am grateful for the process that allowed for it. Grateful to Healthabitat who, prescribe health to the architect as a core responsibility, and practice it too. As PP would put it, "Change comes slowly. The work must be built around people – those doing the work and those who we are working with." Being a part of this work has definitely been a privilege.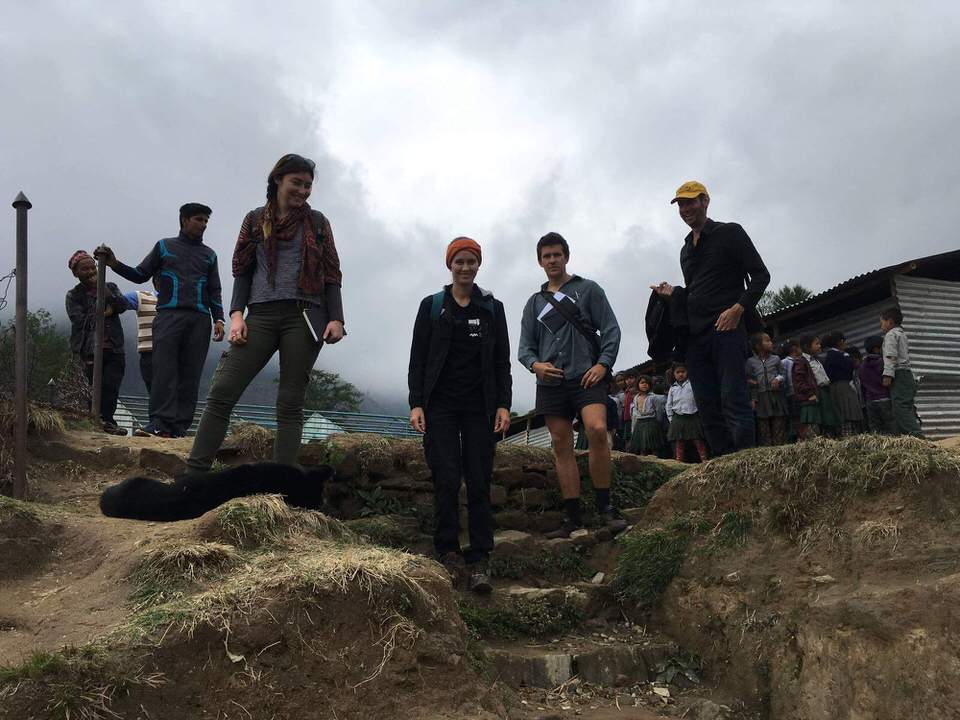 Photo credit: Jazmin Gavin