South Africa – Diepsloot Sanitation Project update
Starting with the wastewater problems, whilst most drains have worked well keeping the drains clear under the tap points and at the main point where wastewater is discharged, some have not been as successful as hoped. Design revisions are planned.
The new tubs generally perform well with only one lower fixing needing to be checked on one tub.
On the water supply side, one new cistern has had a lid removed. The reason for this and the rectification are being checked by WASSUP. The local cistern manufacturer/supplier is also assisting.
The greatest success so far from the completed works is the dramatic reduction in water consumption comparing the improved and unimproved toilet and tap points. 
Despite local knowledge that the 10 unimproved toilets and water points have significantly less use than the 10 improved toilets and water points (by virtue of their location and surround population), the water use is regularly 3-4,000 litres less every day in each of the improved units due to reduction in leaks.
Early on in the works the local WASSUP team showed local residents the quantities of water being saved each day …. There were at least 3-4 of the cubes saved and each cube represents one cubic metre of water (or 1,000 litres). The cubic metre was  mocked up using beer crates to gives residents an idea of these huge volumes of water.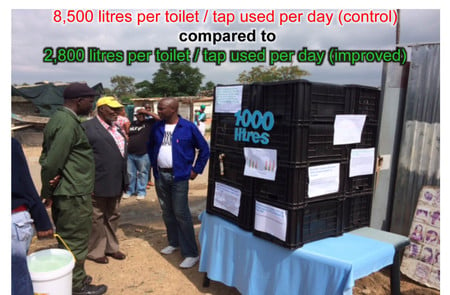 The WASSUP team explain to local residents and officials the results of their work
Now 40 days on …if all the 120 toilets managed by WASSUP had the same upgrade/remedial works completed (as per the initial 10 completed) there would be a water saving estimated on the readings to date of over 13,000,000 litres …. in just 40 days. 
The graph below compares the 10 improved toilets (green) to the 10 unimproved (red) and shows a consistent trend.