Community Plumbing Challenge Diepsloot, South Africa
Months in the making, the planning work for the second Community Plumbing Challenge is underway in Diepsloot, South Africa. Healthabitat has rejoined the WASSUP local team and IAPMO to fit out and upgrade 14 new toilets to replace 14 existing, failing toilets to be upgraded during the final challenge in July.
Not an easy task nor a smooth process, however important to the health and continuation of improved sanitation for the residents of Diepsloot. HH Program manager David Donald together with Troppo Architects Adrian Welke gave a lecture yesterday at the Gauteng Institute for Architecture on regionally responsive architecture, kicking of a two week trip to prepare for the July Challenge.
In July, the CPC will aim to repair and upgrade 14 existing toilets plucked out of Diepsloot, with the intent of returning them to the township fully operational and connected to dispose of waste water safely.
While there, Healthabitat and IAPMO will learn and resolve ways to further support the important work of the local WASSUP team to ensure maintenance work can sustainably continue, not only to ensure the good work of past, present and future WorldSkills volunteers is kept up, but more importantly the health of local residents is not impacted negatively.
HH expects to see the continued upgrades of the shared toilets in Diepsloot continue to demonstrate the huge water savings and garner the much needed attention of JoBurg Water to help roll out upgrades throughout the township.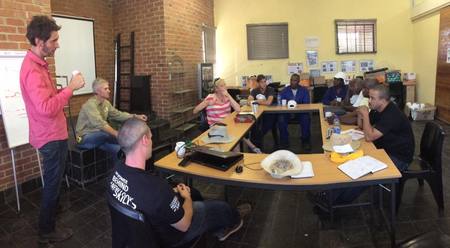 From left: David Donald (HH), Grant Steward (IAPMO), Jennifer Van Den Bussche (Sticky Situations) and the WASSUP team on Day three for team briefing.
Photo: Sean Kearney (IAPMO).
For day by day accounts of the progress check in to the Community Plumbing Challenge Facebook page.
Thumbnail image by Jennifer Van Den Bussche