Reusing ideas – from Nepal to India
The 2015 Health Improvement Design Studio in Nepal continues to yield results … but further afield than Nepal.
Swathi Saralaya, an environmental engineer from India employed by IAPMO, attended the 2015 Nepal Studio with Grant Stewart (also from IAPMO and an ex WorldSkills champion) and was keen to use the school sanitation Feasibility checklist developed by the students working in Nepal for potential school sites in India.
This has happened and HH was sent some photos of the Feasibility being used by Swathi.
IAPMO (one of HH's valued partners) is considering a Community Water Challenge to improve the sanitation facilities in an Indian school.
We will keep in touch with the Indian team and see where this project leads. We hope it will improve the sanitation facilities for many children.
HH thinks this is a great example of how university students can develop design or planning resources, that can be shared by many, to improve the living environment and health. We hope any feedback or improvements suggested by Swathi / Grant and their team can lead to an improvement in the Feasibility and that it can be used again and again by others facing similar problems.  CLICK HERE to download the Nepal Sanitation Feasibility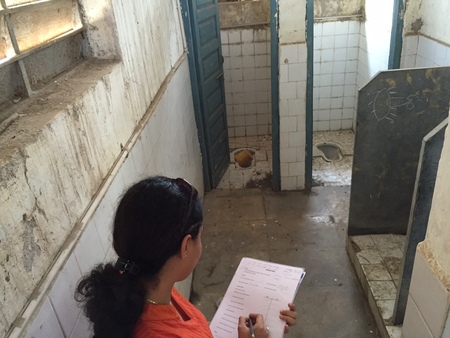 Swathi using the Feasibility checklist inside a school toilet area in India