TRIAL: Pioneering heat stress scale to be trialed in Western Sydney
Sydney researchers are developing a heat stress scale similar to a UV index.
With an accompanying app,  it is designed to help the public handle the heat and avoid the risk of health problems brought on by heatwaves.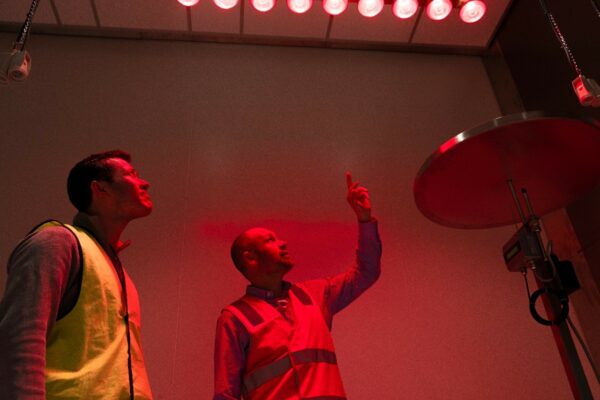 Dr James Smallcombe and Professor Ollie Jay in the climate chamber (source)
The Announcement
Minister for Emergency Services and Resilience and Minister for Flood Recovery Steph Cooke said the app is being developed by researchers at the University of Sydney, in partnership with Resilience NSW, through the $52 million Disaster Risk Reduction Fund.
"Heatwaves are responsible for more deaths in NSW than any other severe weather event, with the impact greatest on children, the elderly, Indigenous communities and people with pre-existing health conditions," Minister Cooke said.
"The Heat Stress Scale is similar in concept to the UV index and gives users personalised, real-time information on their risk of heat-related health problems based on temperature, humidity, solar radiation and wind speed.
The Technology & the Trial
Professor Ollie Jay, who is leading the world-first project, said the Heat Stress Scale and app are being developed by a team of multidisciplinary researchers from the University of Sydney's Heat and Health Research Incubator in collaboration with the Sydney Environment Institute.
"This summer Western Sydney residents included in the trial will be able to create a personalised health profile in the app, providing information like age, medical conditions and regular medication… The app can then estimate the risk of a person overheating, becoming dehydrated or other negative health effects brought on by hot conditions, and provide that information in a simple 1 to 5 scale that's easy to understand. It will also include evidence-based strategies people can easily implement to protect themselves." said Professor Jay from the Faculty of Medicine and Health and Charles Perkins Centre.
The Heat Stress Scale app will be tested in Western Sydney this summer thanks to a $435,303 grant from the Disaster Risk Reduction Fund, with a potential wider rollout in the following 2023-24 summer season.
Healthabitat agrees with the important relationship between heat stress and the impact on people's health, particularly children, the elderly and indigenous communities. From the decades of experience working in Indigenous communities though, when heatwaves occur, due to the sub-par nature of housing fabric, lack of maintained mechanical ventilation and energy insecurity, there are very few places to take refuge in. More focus, further to such technology, must be placed on improving the performance of housing and effective community places of refuge. 
Source – The University of Sydney News (13th December 2022)