REPORT: 'Hot Cities, Chilled Economies – Impacts of extreme heat on global cities'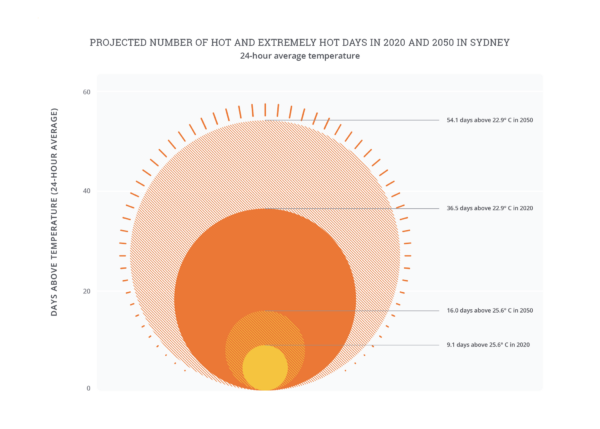 Image – Projected number of hot and extremely hot days in Sydney 2020/2050 (source)
The Scary Global Picture painted by the report
"A July 2022 heat wave that blanketed huge swaths of the United States set more than 350 new daily high-temperature records….
The situation in Europe proved even more dire: an unprecedented heat wave sent temperatures soaring in mid-July, killing some 2,700 people in Spain and Portugal before moving north into France and the United Kingdom, setting new records in Paris (nearly 43.3˚C/110°F) and London (40˚C/104°F).  Meanwhile, record wildfires raging across the continent destroyed hundreds of thousands of hectares, creating literal hellscapes and exacerbating Europe's worst drought in at least 500 years.
Climate hell recently landed in Pakistan, starting with a day in Jacobabad that reached 51˚C (124°F) in May 2022 followed by a heat wave in June that scientists say was the driving force behind flooding that put one-third of the country under water and took more than 1,500 lives…..
Southern China experienced temperatures as high as 45˚C (113F°), causing massive disruptions to the electrical grid, transportation networks, supply chains, and food systems, which made major cities practically unlivable." Source – the report
We all know the huge devastation from bushfires, heat and flooding which has occurred across Australia over the recent years.
The Reality & the Forecast
The danger posed particularly in the global south is a scary prospect.
The report tells us that "By 2050, more than 970 cities will experience average summertime highs of 35˚C (95°F)—nearly triple the 354 cities that already do… and that heat exposure within Sydney already causes labour productivity losses that could amount to $432 million in lost output in a typical year currently. – in contrast, flooding costs New South Wales around $250 million every year."
Without action, these effects and broader implications will continue to worsen.
Read more about the Sydney overview in the report – here.
The 'One billion People More Resilient' Campaign & The Arsht-Rock Foundation
Arsht-Rock has set out to reach one billion people with resilience solutions to climate impacts by 2030.
The center launched in 2019 and is committed to enabling  individuals, communities, and institutions to prepare for, navigate, and recover from climate impacts alongside reducing inequity and increasing human security.
The website is a wealth of knowledge, offering tools, research, data and advocacy about the risks and impacts of climate change.
See the website – here.
The 'Heat Action Platform'
The website also has the 'Heat Action Platform' which is a tool to find guidance, resources and solutions on reducing the impacts of extreme heat at regional and municipal levels.
The platform also provides tools to allow one to conducts heat risk assessments of a place, develop education strategies, heat adaptation solutions and funding plans.
One of these tools is the 'Heat Action Policy Tool' which allows a search of existing policy solutions which could then be used to apply to your own communities.
See the website – here.
We think such in-depth and broad research about the impacts on climate change not only in Australia, but across many continents, is important to communicate the severity of the current and future impacts of climate change. It certainly is worrying, although great to see it reported, the data in the Sydney report showing areas in Western Sydney with lower socioeconomic demographics with huge heat forecasts.