PROJECT UPDATE: Brownsville NYC Update
The Brownsville Partnership (BP) who are leading a Housing for Health Project in Brownsville, New York are doing a great job, getting the hang of the licensed 'Survey and Fix' process across both low and high rise Brooklyn apartments.
The team have successfully completed a survey-fix in their first 25 apartments, identifying and repairing items around the home that will give the best health outcome, particularly for children under 5 years old.

 left to right is Jed Scheuermann (IAPMO), Taurean Lewis (BP Team Leader), Michelle Blassou (Project Manager) and Harrison Haigood (Data Manager)
The team on the ground are working with a combination of private and Community Housing landlords to carry out the surveys, with a notable collaboration with long-time Healthabitat partner the International Association of Plumbers and Mechanical Officials  (IAPMO).  IAPMO are assisting with on the ground training of team leaders and team members and have generously donated time and materials for the local manufacture of plumbing training boards used for training community survey team members.
The Healthabitat team in Australia have been both training and mentoring the BP teams, ensuring the tools that originated in remote desert communities are applicable for high rise apartments in Brooklyn.
Mould is rearing its ugly head in a majority of the apartments surveyed so far.  High temperature and relative humidity, combined with poor or non-existent ventilation and water leaks, particularly in bathrooms appears to be contributing to rapid growth of mould.  If left unchecked this can lead to allergic reactions, trigger asthma attacks, and potentially cause lung and respiratory complications.
Indoor humidity should ideally sit between 30 – 50% relative humidity to prevent mould growth.  In the 2010 pilot for this project data loggers in 3 apartments in Brooklyn measured indoor relative humidity between 60 – 80%.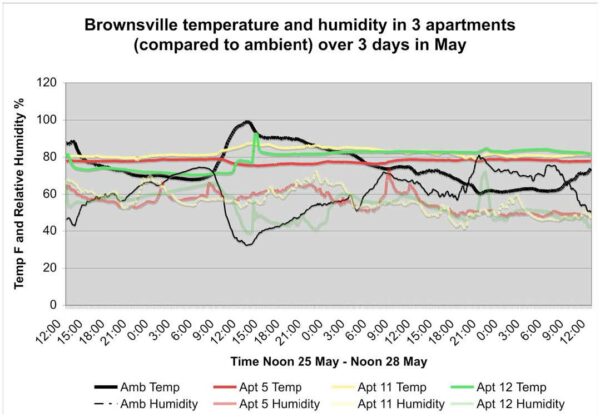 Figure – extract from Brownsville final project report in 2010 documenting the data logger information of the 3 apartments over 3 days.
The BP team have been busy fixing leaking faucets and improving ventilation, all of which should lead to some basic yet marked improvements in the fight against mould.
Congratulations to the Brownsville Partnership on a great start to the project!