Plumbers Are Health Workers – A Vital Role
Healthabitat projects draw on diverse skillsets. The success of each project relies on this diversity, which is why we have always worked in close partnership with trades and industry experts. Award winning plumber – Andrew Whalan – has recently written for IAPMO about the opportunities provided by being equipped with a trade, and how the skills he learnt at TAFE have been applicable both within the domestic industry and abroad.
An important mechanism for the development of the global community of tradespeople is the annual international competition run by the WorldSkills Foundation. At these events, apprentice and expert tradespeople face-off against one another to complete difficult technical tasks within limited periods of time. To be selected to represent your country requires qualification at both the regional and national levels, and reflects a mastery of the various problems and difficulties that come with the work.
Andrew was first selected to represent Australia at WorldSkills in Switzerland in 2001, and will this year once again represent the country as the International Expert for Plumbing and Heating at WorldSkills Abu Dhabi 2017. Healthabitat has an ongoing relationship with WorldSkills competitors, and Andrew is one of the recent initiates to the Nepal Village Sanitation Program (NVSP), completing his first round of maintenance, modifications and installations in 2014.
Becoming a plumber in Australia requires a Certificate 3 in Plumbing from TAFE, which is complemented by a Certificate 4 to complete the professional qualification. The skills acquired throughout these courses are immediately applicable in the context of all projects, from Housing for Health projects to international sanitation projects: providing plumbing for handwashing facilities, designing water management systems for new toilets, collecting and cleaning rainwater, improving health hardware, and plumbing biogas chambers to provide a clean alternative to smoke-heavy timber cooking.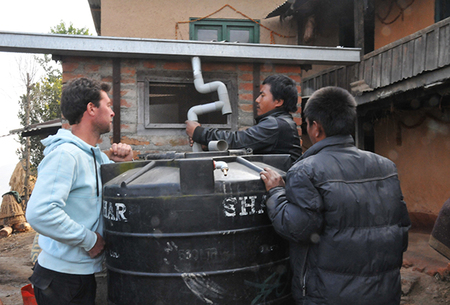 Other trades needed on projects include bricklayers and carpenters whose training enables them to see opportunities for innovative design solutions using local materials and practices. In 2015, following the earthquake that devastated Nepal, Andrew successfully applied for the Reece Grant, which has supported the ongoing participation of international plumbers in NVSP. Without these skilled practitioners it would not be possible to deliver health outcomes that meet the criteria of The Healthy Living Practices, or to deliver health hardware that continues to meet the needs of the local people who rely on their sanitation facilities to remove waste safely and stop people getting sick.