CPC update – "This is the first time a promise has been kept"
Update on the latest CPC at Navajo Mountain, USA
Healthabitat and long term partners IAPMO have officially wrapped up, the CPC (Community Plumbing Challenge): Navajo Mountain in Arizona. This saw plumbers and other trades invited into tough places not just to write reports but to actually get their hands dirty and improve the living environment in tough situations.
Check out the previous CPC: Navajo Nation Final Report
HH chatted to the Director of International Projects for IAPMO and Plumber, Grant Stewart and Housing for Health project manager and Architect Greg Norman about the project, read below to hear their thoughts.
---

Grant Stewart // Plumber // Director of International projects at IAPMO // former World Skills champion
Where and What was the project?
The project was in a rural community on the border of Arizona and Utah in the Navajo Mountain Chapter of the Navajo Nation. It is the next CPC event after the project was undertaken in the Baca-Prewitt chapter in 2018.
This project focused on three houses in a remote area that lacked water, wastewater services or electricity. The houses were about 20 years old and were currently using jerry cans or barrels for water, candles as a light source and long drop toilets. In all three of the houses, there were elderly people with varying degrees of accessibility.
The team on the ground provided hot and cold water to all houses. Instantiations gas hot water heaters were used as gas is the most reliable for the area. Although because it is so cold, gas systems were installed inside and flued to the outside with carbon dioxide monitors inside. This is a proven DigDeep system. The water is pumped by a 12V solar-powered pump.
In the following months after the bulk of the project wraps up a couple of skilled people will go back and ensure things are running smoothly – teething issues and fine-tuning some aspects of existing plumbing and the 12V systems. It is always good to follow up.
Who was involved in the project?
Project Partners were; Dip Deep, Iapmo, Healthabitat and big input of plumbing supplies from Fergusons
What was your role over there?
Project Manager – logistics, the whole thing. The big challenge working in a remote community is that you can never have enough stuff, there always seems to be a piece of equipment you are missing.
What were the key improvements?
None had hot water or toilets to the house now all do. 2/3 have flushing toilets – 100% water in and out hot and cold and kitchen washing facility. Wastewater is managed and water quality massively improved.
You have been involved with Healthabitat for a number of years, plumbers are a core part of the work. Is this plumbing any different than what would be done in a suburban home?
I would say it is closer to a rural home with septic tank and water storage – internally it is no different. Water supply and wastewater management is crucial. Design is particularly critical when designing for access and ageing, it must consider every aspect, placement of taps + toilet location, etc.
What other qualities do you think are important in this work other than the ability to connect pipes, solder connections, etc?
Ability to want to help people. Ability to connect with people. Broad skills. People working together on a project for people who don't have the opportunities they do. There was a bloke who wanted to come, drove his own ute down from California where he ran his own maintenance company and so could do a whole range of work, which meant he was an incredible asset. Working with the local families they would take people under the wings and even feed them. A lot of these families have had promises all their lives but never see them fulfilled. This is the most crucial aspect. Following up work ensures that the work that is done continues to function. Sadly politics gets in the way. It's not rocket science, people need water.
How did the HfH methodology work in with the CPC program?
It does, in this instance, it was limited since no electricity, the last CPC project fixed a lot of things. The HfH methodology allows you to impact health almost without knowing. Plumbing being plumbing you don't always think about the ongoing health effects. I think it will be used again in the future. It allows you to fix health almost without knowing it. I am becoming more and more aware of this, it's bloody brilliant.
There was a diverse team working over there, how does it work having people from several continents and diverse skills, plumbers, architects, academics, artists…? What benefits does this give to the team?
Partnerships are a great thing, working with Healthabitat we realise design is a big factor. Every time we learn that. If you get the design wrong it's never going to work.
The design considers the placement of septic tanks to deal with the ground, where a tap is, bathroom layout, where a water tank goes so it's out of harms way and won't be driven over. If one part fails it all fails. 
Was there anything that surprised you about the project?
Bits and pieces you don't think about. Travel times to get materials, always to go and get the one thing you need to finish a job. It was a reasonable distance from where we were working to supply shop through two time zones. Takes a huge amount of time and energy to make this work.
Anything else you want to add?
You can't take enough stuff – everyone does things a little differently.
If you come and do something, follow it up.
Learnt a lot from Greg about the HfH survey – small things can impact the HLP's massively, having one laundry/kitchen sink that can wash children, wash clothes and provide a space to access water and act as a kitchen is a massive help.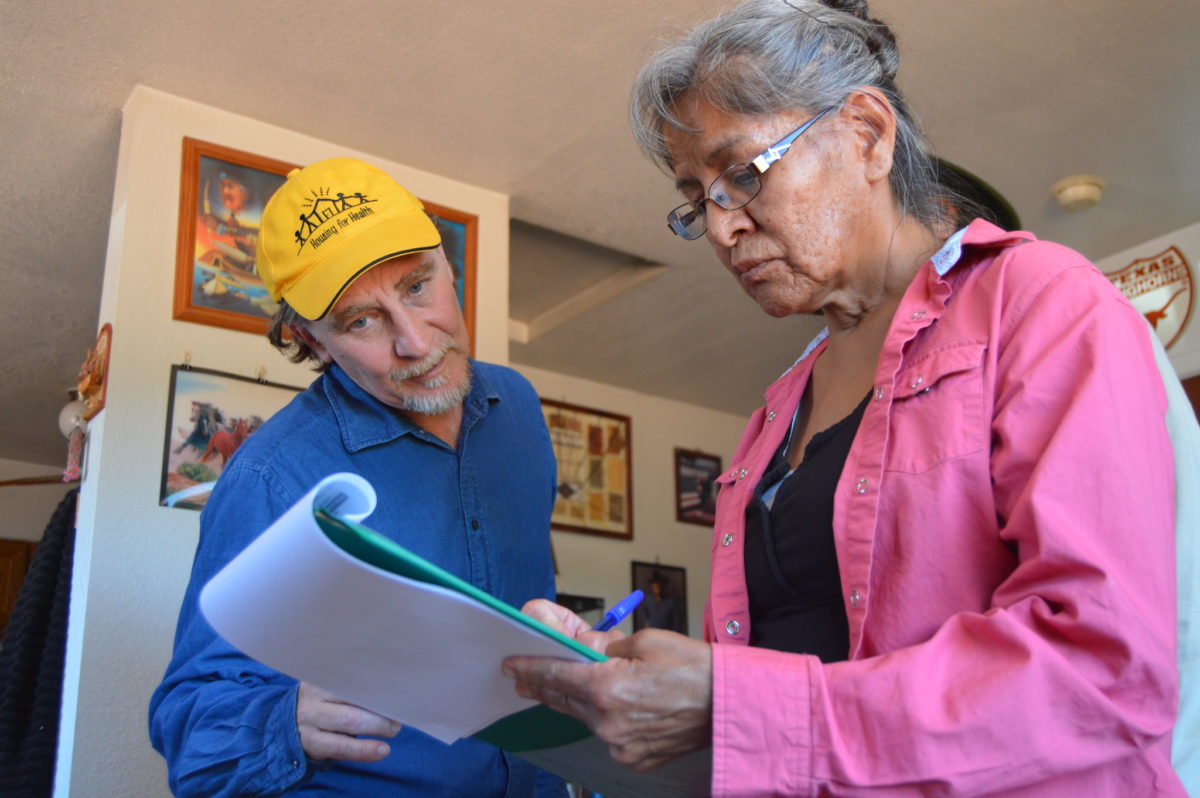 Greg Norman // Architect // Project Manager for Healthabitat
What was the project?
Three houses with no water and no power connected! The project was to deliver water and sewer to three houses including one bathroom.
What was your role over there?
Representing HH as a project partner, the primary role was to coordinate the HfH process and ensuring the HLPs aware addressed.
You have been involved with HH for years. What do you think you bring to the team? Why are architects involved at all?
I've been working with HH since 1999, architects are good at coordinating many different trades, professionals, organizations, service providers and drawings– in a  way architects are the conductors of an orchestra for want of a better word. Through many years of working in remote communities, I am able to aide with a specification suitable to harsh and extreme environment.
What was the environment like there?
High altitude desert area, dusty and remote from services. There are extreme temperatures changes, it gets cold and very hot!
What role does design play a role in the work there?
The key role of design here was for a new bathroom for elderly lady; an assisted washing space so Grandma has a place to wash.
There was a diverse team working over there, how does it work having people from several continents and diverse skills, plumbers, architects, academics, artists…? What benefits does this give to the team?
They're all plumbers who volunteered from all over the United States. Good to have skilled volunteers. World Skills volunteers are brilliant as they are some of the best in the world.
Was there anything that surprised you about the project?
Nothing ever surprises me…We had two backhoes up there and had to drive 20 miles up the road – got a flat – took 4 days to get it fixed. The similarities between the housing environment and poverty I guess is a surprise, you always think it's going to better but it isn't. The punters are always as good as anywhere, some of the best team members were Navajo they even pointed out the mistakes I made. I love it.
Anything else you want to add?
Everywhere we go it's the same issues.
The HfH Method came from remote Australia where you would go out to remote communities and you didn't know which country you were in because the conditions were so bad. It can be overwhelming to know where to start and what to do. The HLP's give a guide as to how to tackle it. First, you try and make sure people (especially children 0-5) can have a wash once per day. Then that people have somewhere to wash clothes, etc. It has been evolving over the last 30 years, so it is incredibly robust now. It stands up for itself, there are no questions on the survey sheets that don't have a health target.
The unique aspect of this work is that you turn up with a plumber and an electrician and you actually get work done. That's what you want to see, teams of people walking around communities fixing stuff. And then to put it into a rational and a methodology to make sense of it all we measure all the data that comes out of it. The data was two-fold, to show public servants that this work improves health and it allows us to look at better specifications, what's going wrong and why.
This was proven in the Navajo project where one local said: "This is the first time a promise has been kept"