Lights, camera … and village action
What better time to have the world village premier of the Nepal Sanitation Program movie than at the end of the handover of 20 new toilets.
And what better place for the brown carpet event than in the village house that hosted the celebratory lunch.
After the delicious lunch for over 80 people prepared by the village residents to celebrate the toilet handover, many people crammed into the dark house to try and catch a glimpse of their local movie stars on the computer screen. As the family livestock were being sheltered in the other end of the screening room it is fair to say the audience was mixed but there was overwhelming support and praise of the movies by all.
Most telling was the loud cheer that went up from the assembled crowd when Bishnu Shrestha made his appearance. Bishnu has led the Sanitation program and is obviously well liked and respected by those living in the participating villages.
Many of the villagers appear in the movies that were shot in January 2014 by Simon Forbes, with post-production work occurring during February and March.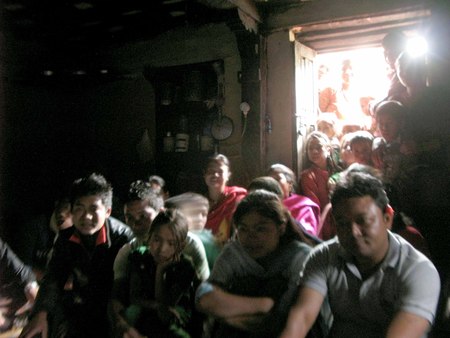 Villagers crowd into the room and the Nepal Sanitation Program construction team is represented by Field Manager, Surya Lama (front right)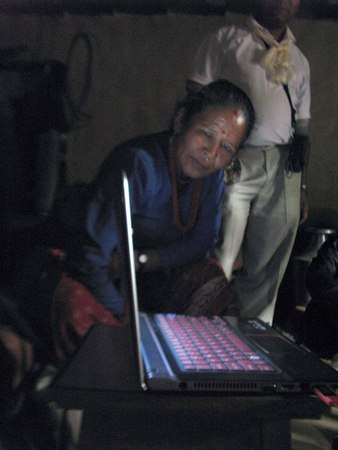 This village elder made sure she had a prime viewing position.
To see the movies CLICK ON THE IMAGE BELOW