How an Australian Aboriginal health service is helping an African community
When Yami Lester was the Chairman of Nganampa Health Council in the mid 1980s he summed up the environmental health review work of UPK as "water in, shit out". 
The first week of the Diepsloot Sanitation Project followed this model ensuring working water supply, isolation valves, cisterns and taps. The next step is to remove wastewater safely.
So almost 30 years later it makes sense that the UPK program team, still based within Nganampa Health Council in central Australia, offered the loan of a drain camera unit to the South African project to assist the WASSUP team and WorldSkill plumbers to improve the drainage in Diepsloot.
The 'drain cam' allows drains to be carefully checked for blockages, broken pipes or obstructions.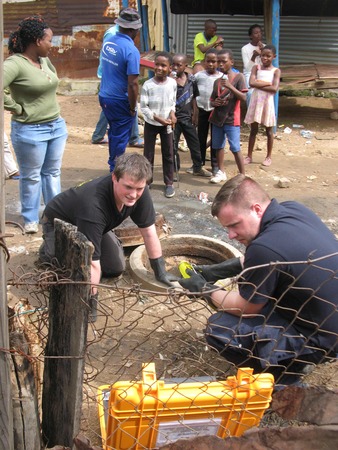 Two of the WASSUP team explain to some young residents of Diepsloot what the two WorldSkill plumbers are doing with the drain cam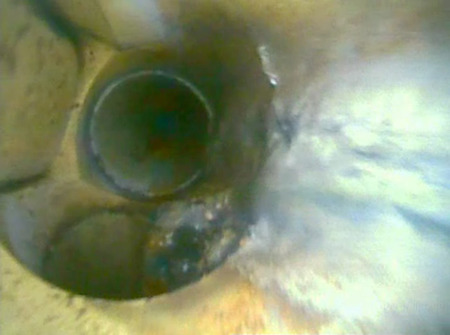 An image from the drain cam … its not a Hollywood blockbuster but it helps improve drainage and health.
In the establishment of the Diepsloot Sanitation Project, the drainage blockages were blamed on residents placing rags, newspaper and other foreign objects down the drains – the people being the problem will sound all too familiar to Australian readers. The drain cam pictures all showed clean pipes.
Local gravel/rock and silt at the tap point drains were the cause of the blockages. The local WASSUP team, and residents frustrated by blockages, have been using metal drainage rods to try and clear the blockages and these hard metal rods hitting the plastic trap pipe over time have caused the breakage.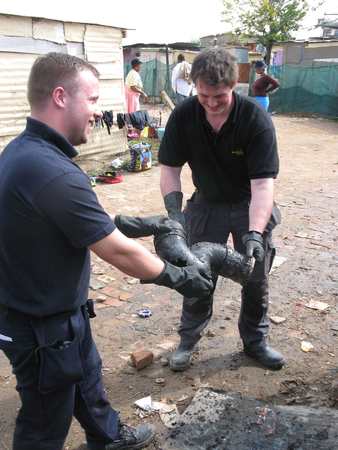 Shane and Ciaran (WorldSkills) remove the broken trap that has caused the drainage problems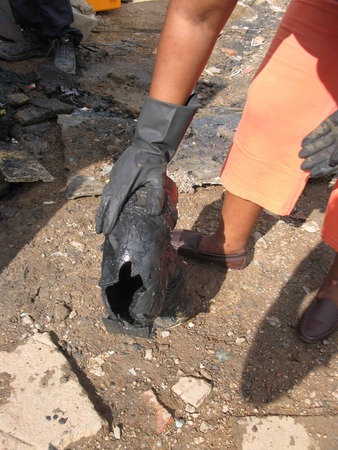 Lerato (WASSUP) shows the extent of the break caused by steel drainage rods being used to try and clean the drain.
The solution, to be installed next week, will involve better grating covers on the drains to exclude stone and gravel, an easily accessed inspection point for cleaning and a set of plastic, flexible rods for the team to clear blockages safely.
Thanks to UPK and Nganampa Health Council in Australia for the loan of this equipment and contributing to the Diepsloot Sanitation Project.