Housing for Health – the 'real' Guides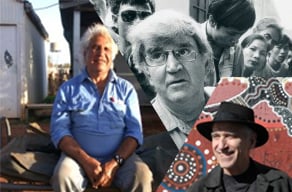 From left:
Yami Lester started the core of the work in 1985 with a simple one line brief … 'stop people getting sick'. That in a nutshell is the aim of the Guide. 
It was Dr Fred Hollows who had the simple message of 'no survey without service'. He applied this principle to his ground breaking trachoma work when he took the facilities on the road to not just diagnose trachoma but to fix it immediately. The Guide uses data from houses that was first used to immediately improve the houses. It can now be re-used to improve house design construction and maintenance. Thanks to The Fred Hiollows Foundation for hosting the launch.
Colin (Col) James spent his life 'making housing a verb'… he saw housing as an action not an object …. housing worked for people, all people. HH notes that Col was a great contributor to the National Indigenous Housing Guide (an earlier Federal Government initiative) and we are sure Col would have given a hearty yodel at the launch of Housing for Health – the Guide.