DESIGN MATTERS – The (ongoing) Washing Machine Debate…
Washing Clothes and Bedding is the 2nd HLP as the regular washing of clothes and bedding, helps to remove any bacteria, dirt, fleas, mites and other irritants or infection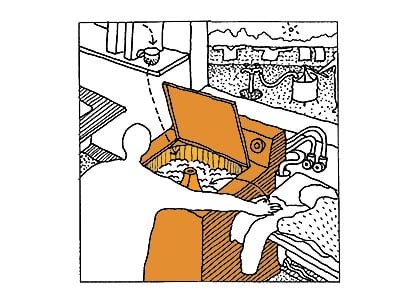 HLP2 – Washing Clothes and Bedding
Washing clothes and bedding is important to residents and the laundry is likely to be in constant use. A study where Nganampa Health Council commissioned the Centre for Appropriate Technology (CAT) to research Washing Machine/Laundry use in Indigenous Communities recorded an average of four washing machine loads per day per house (Tietz 1994), approximately 6.0 hrs of use/day in the Pipalyatjara, SA project study.
In Australian public housing, washing machines are considered the responsibility of the tenant, so to see this NSW government trial is great!
As stated in The Guide, Healthabitat still recommends that a commercial washing machine is installed in every house as a 'fixture', and therefore is subject to a cyclical maintenance regime by the housing provider. This would ensure ongoing health benefits to households, particularly children 0-5years.
There are many health arguments in support of Washing Machines. See a great piece explaining their value by Stephan Rainow, Nganampa Health Council (NHC), UPK program, here.
Design and Specification of a Laundry
A laundry should:
provide storage space for dirty washing
ample space and services for a washing machine
have at least one 70 litre laundry tub next to the washing machine space with a hot and cold water supply, taps and spout (used for storing clothes before or after washing, hand-washing clothes, washing hands, bathing young children, cleaning or filling buckets and large cooking pots, and rinsing fishing or hunting gear. Providing two laundry tubs can make it easier to carry out more than one of these activities at the same time)
have high level (above 1500mm), rust-proof shelves provided for storage of cleaning products or a secure storage cupboard
a place to dry clothes (recommended to be in the sun to have the benefit of UV light)
Benches, cupboards, floors and wall finishes need to be robust, waterproofed and suited to use in a wet environment. The laundry should also be designed for use by people with disabilities.
A washing machine requires its own taps, waste outlet and power point. If only one set of taps is provided for the washing machine and laundry tub, the machine is more difficult to use, and repeated connecting and disconnecting of the hoses will wear out the fittings and increase the chance of them being misplaced.
See The Guide for further Laundry Design and Specification recommendations.
Housing for Health Data
Despite the health benefits of a working laundry, Housing for Health data shows not every household has a functioning Laundry;
Only 78% of all houses surveyed (7586 houses) had a working washing machine
Only 73% of all houses surveyed (7590 houses) had Independent washing machine drainage (ie. not through the main laundry tub or floor drain)
Only 82% of all houses surveyed (7540 houses) had Functional washing machine drainage (ie. it wasn't blocked, damaged or unusable)
See more data in The Guide here.
Real world examples of problems
In our recent NT Housing for Health projects, we have continued to see the fail of whole wet areas from basic laundry design oversight.
THE SCENARIO – The Washing Machine sitting next to the Laundry Tub does not have an independent by-pass so the outlet drain hose must sit over the sink edge (depending on it's height in relation to the water level) OR the floor drain grate is removed to allow the hose to drain freely. The grate is constantly removed and eventually misplaced. Empty washing detergent containers and items find their way into the open drain causing a blockage which over time gets worse and eventually sewage begins to backflow through the house drains. A simple design oversight.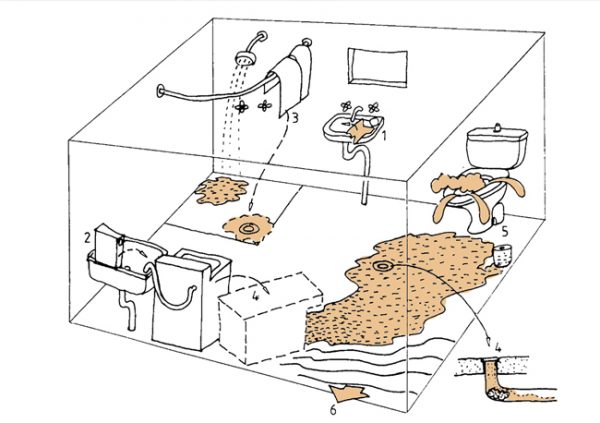 Sketch by Paul Pholeros depicting how a bathroom can fail to function (basic design oversight causing failures)
Real world examples of solutions
See another related news item here – NEWS/ ADVOCACY: Remote Laundry Pilot Project Success!