Sanitation Studio returns to the village
The new siting kit
The new siting kit was tested by Bishnu Shrestha (CHDS). The siting kit had 3 parts 
The flip cards with important siting considerations 
The small model to help villagers understand the underground parts of the system
The full size  templates used to mark the position of the parts of the toilet  and waste treatment system
Working with each village family and representatives from the Sanitation Committee , the toilet system was explained and the key components of either the septic or biogas system were located on site.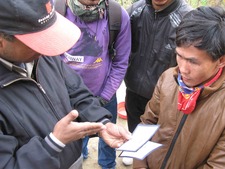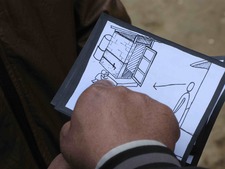 Simple flip charts are used to explain important considerations in siting the toilets 
The prototype model was used to explain the parts of the waste treatment systems that are underground. All parts of the model were coloured coded to the full scale template pieces.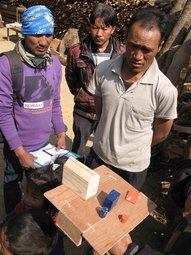 The prototype model in use 
Full scale templates were made to locate all the toilet and waste system components.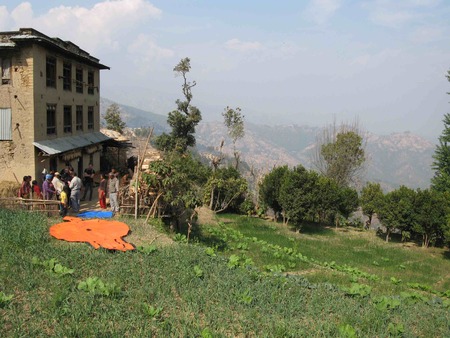 Biogas template (orange) and toilet unit (blue) being located.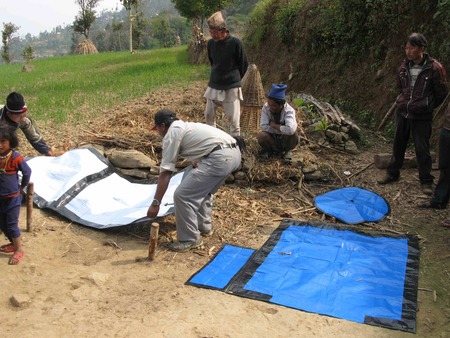 Toilet, septic tank and water tank being located with family leader considering the options.
With family and committee final agreement the templates were removed and site pegs installed to allow families to excavate after contributions have been paid and agreements signed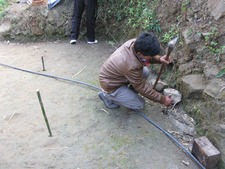 The plumbing team and the new works installed 
Four new rainwater diverter systems were installed by the plumbing team. This work was led by Surya Lama (plumber) and Tri Ratna (carpenter),  key local members of the construction team.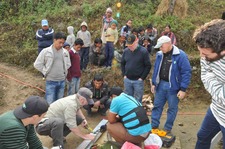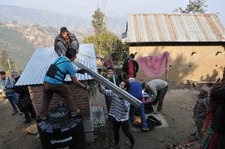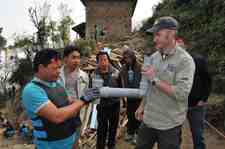 The plumbing team also installed a new water tank filler point to avoid excess wear on the tanks lids.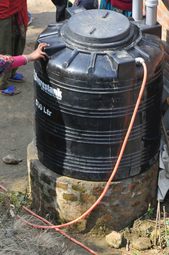 Four variations of rainwater first flow diverters were designed to improve rainwater collection and quality.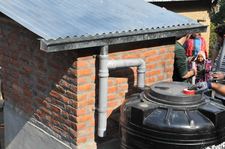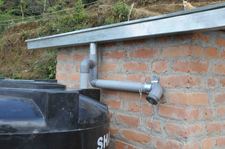 On the left is the new rainwater diverter system (one of two variations) and on the right a design able to be retro-fitted to existing systems (one of two variations). Both will be trialled with village families through the wet season in June July and then evaluated.