NEWS: Mparntwe (Alice Springs) Project Underway!
Projects have officially kicked off in the NT for 2022, beginning with a 'Maintaining Houses for Better Health' (MHBH) Program in Mparntwe (Alice Springs) last week.
This MHBH project will eventually be rolled out to all 270 houses in the Alice Springs town camps. 140 houses have been surveyed to date.

Team members Cecily Arabie and Neil Rubuntja carry out Survey and Fix work on a house
The project running over the past two weeks employed and trained 15 community members from all Town Camps, completing a Survey Fix 1 (SF1). The teams inspected, tested and fixed up to 250 items in each house, identifying emergency works and maintenance works for Tangentyere Constructions' Electricians and Plumbers to carry out the fix works. This fulfills the 'No Survey without Service' motto of every project.
Students Join the Teams
Healthabitat collaborated with The University of Newcastle to offer an elective to Architecture students to introduce students to HH's evidence-based Housing for Health methodology and the Nine Healthy Living Practices that underpin it and the opportunity to participate in the MHBH project. Eight students over the 2 weeks joined the project, each joining a survey team working along side local community members and multidisciplinary team leaders. The students learnt fundamental lessons about the links between housing and health and the priorities of the 9 Healthy Living Practices.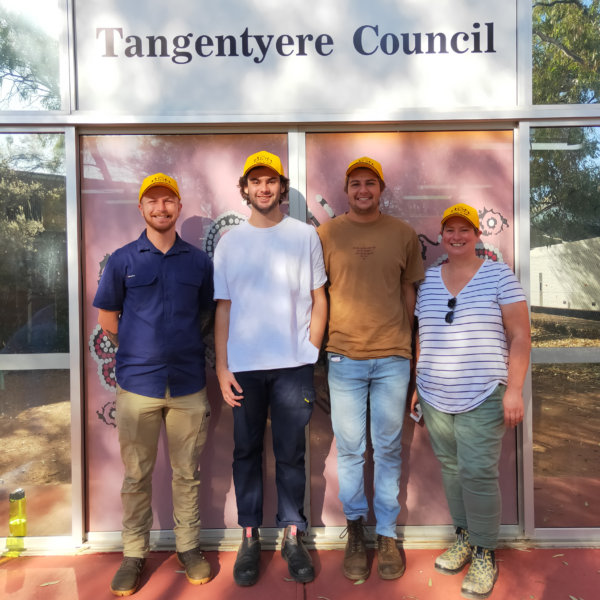 Four of the Eight UON students who joined the project: Mitch, Jackson, James and Fiona
MHBH project vs. Housing for Health Project (HfH)
The project as a part of the NT Healthy Homes Program is funded by a mix of the NT Government, a community housing organisation, health NGO and private donations. This project is unlike usual projects which are 'Housing for Health' projects following a 7 stage methodology, with SF1 being the first of two surveys carried out in each house in a community. These projects have a major fix stage carried out with Electricians, Plumbers and Builders. 
This project being a 'Maintaining Houses for Better Health' (MHBH) is trialing an annual SF1 house survey and trade works without a major fix stage. Parts of a house needing major works are still identified and passed on to the housing organisation as future works in their asset management program. This focus on annual maintenance is very exciting as Healthabitat's data over the past 20 years shows 74% if issues nationally in houses is caused by lack of routine maintenance.
Healthabitat knows through an annual SurveyFix 1 and emergency trade works completed in each house, house function will be improved which means the health of all occupants will be improved.