FROM THE ARCHIVES: R&D – Stove Function
Housing for Health survey data shows stoves are performing poorly in Indigenous communities nationally with an average lifespan of between 6 months to two years.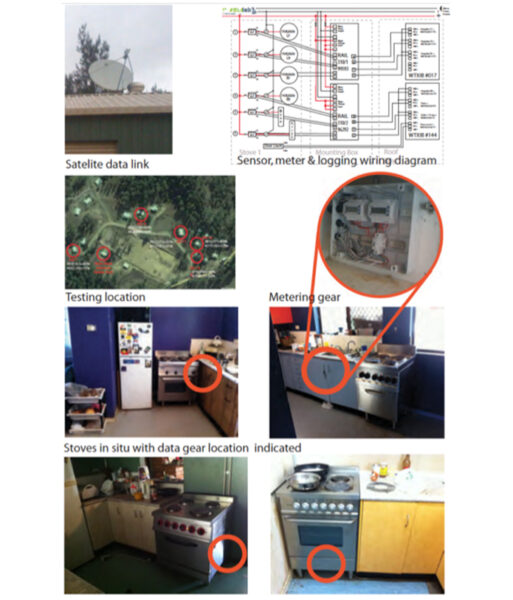 Stove testing in the field
This Research & Development project on the ground aimed to address the issue of stove function, Improving Nutrition (Healthy Living Practice 4 (HLP4)) and Reducing the negative impacts of overcrowding (HLP5). More people using a house means greater stove use.
The Problem
Previous research established and documented regular, high level stove use and resulting performance issues. Stove use averages 3.5hrs/day total and an average single continuous use of up to 29.5min, two clear use peaks of 06:00–09:00 & 17:00–19:00 hrs.
The constant heavy use (perhaps due to chronic overcrowding) impacts on the appliance life span. The standard stove model range installed in Public housing include:
Westinghouse Freestyle PAK 144w or similar replacement models
Simpson 61F 811w or similar replacement models
Chef EBC 5211w or similar replacement models
These models are designed for a use cycle of 5 hours per week. It is explicit from the data that this use cycle at times is exceeded in a single day. Therefore a lifespan of 6-24 months is actually quite close to an otherwise 10 year + life span based on hours used. It appears that the selected models above perform to their design specification. Hence the problem is not with the users or the use of the stoves but with the type of appliance being specified.
Using previously established stove performance criteria, three stoves were selected and tested in situ for a period of one year. the established criteria was as follows:
Electrical stove and oven
Either single body or as split counter top and bench oven
Single phase
Solid round Hotplates of at least two different sizes (large i.e. 220mm+ and small i.e. ~150mm diameter)
Daily duty cycle over six hours
Simmerstat of a high quality to match the duty cycle of the stove i.e repeated on and off switching (up to 21 times per day)
Solid, sturdy oven door and hinge construction and suitable sturdy oven body construction
Knobs to be firmly attached to the appliance, not to be pulled off by kids
Solid construction
Easy to clean
Oven elements to be covered and not exposed in the interior of the oven base
Oven not to be fan forced
Oven to be front or top venting
 150 mm clearance to the ground for easy cleaning and visual inspection
All openings to be covered in a fine metal mesh to hinder entry by rodents and pests see Stove Report
Any internal electrical connections to be either screwed or soldered.
Any electronic circuit board components to be covered in a silicone or similar material to avoid corrosion (humid and close to sea shore environment) and short circuiting by ants and cockroaches or similar
Data loggers were placed on the ovens where highly detailed, comprehensive and regular data was collected and reviewed. For example, each element of the stove and oven door opening was monitored.

Recommendations from stove testing for better performing Health Hardware
Trials to inform Decisions
The rigorous testing offered evidence in decision making. The project reviewed it's testing process and findings and defined the methodology and costs for a proposed National Stove Trial.
Active research and development has been an integral part of Housing for Health projects over the past 20 years as a way to find better solutions. The monitoring and gathering of real time usage data and performance has allowed Healthabitat to test ideas, trial better solutions and change the dialogue around parts of a house using hard, quantifiable data. 
Healthabitat continues to welcome collaborations to not only find better solutions for Health Hardware, but to also change the dialogue around decision making when it comes to housing for health.