Earthquake Demonstration House, Nepal
Following the devastating earthquakes in April and May 2015, HH O/S has worked in collaboration with Harry Partridge and the Bhattedande Village Development Committee to design a system, in accordance with the National Building Code of Nepal, using 'earthquake bands' that will make houses more resistant to earthquakes in the future.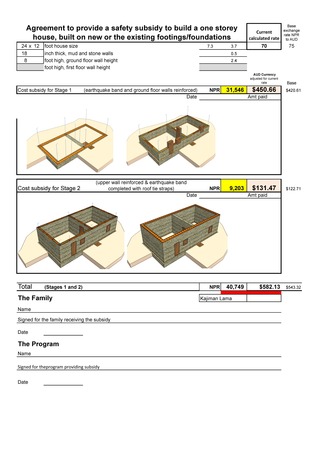 During the Sanitation Studio in February this year, the student team learnt more from the village about the government plans to provide funding to families to rebuild their homes to the newly developed design catalogue for reconstruction of earthquake resistant houses. This slowed down HH original momentum to begin rebuilding before the 2016 wet season with the materials the village has been stockpiling, as villagers displayed concern and confusion as to how they may be risking the much needed government funding. The engineering strategies that HH developed meet the standards of the Nepali catalogue.
A follow up trip in April by HH discussed this further and found a family willing to move forward with rebuilding. An agreement has been signed with a family in Bhattedande Village for a single storey 'Demonstration House' to be constructed using the new structural system on the site of an existing earthquake damaged family house. This house will be used to demonstrate the new earthquake resistant system for the whole of Bhattedanda Village. Nepali building team will begin demolition of existing damaged house in the last week of August down to the level of the footings.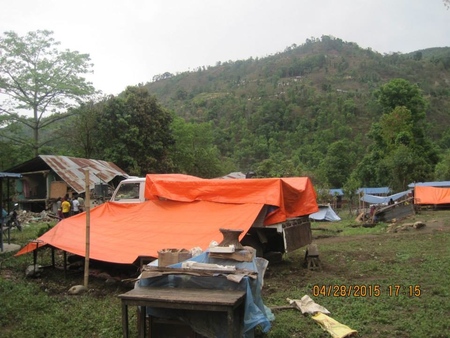 Construction will commence early September. Dave Donald, HH O/S Program Manager will go to Nepal early September for site supervision and technical expertise on earthquake strengthening system. A workshop will be run to discuss the new system, and he will also be on-site with other villagers as the work progresses The house should be completed by the last week of September (including interior works) so that the family can do cleaning, wall painting and plant JAMARA (Blessing) on 1st October.
We hope to provide this as an example to local government as compliant with their re-building guide to ensure the family receive government support. Watch this space.