Complex problems and big thinking ? – maybe try many small ideas
Why does the idea of complex problems needing big thinking, recently proposed by the President of the Rockefeller Foundation, Judith Rodin ring alarm bells.
We are not the first to face global challenges, from the spread of diseases to persisting poverty. But because of the collision of three 21st century trends—globalization, urbanization, and climate change—our problems are more complex and more shared than ever before. To solve them, we're going to need some big thinking.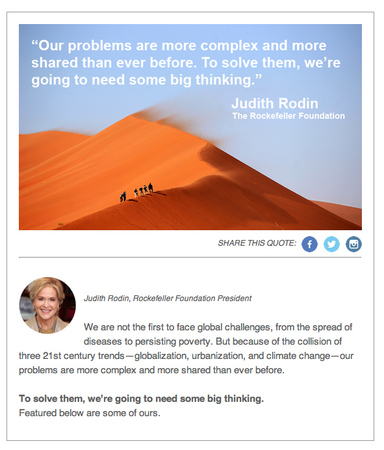 Having just completed the Nepal Design Workshop 2015, what emerged slowly during a week of working intimately with the community of a rural school, were many problems that compounded to make daily life difficult for the school's children and staff.
At the micro level of the school environment –
lack of water in the toilets means less chance of regular dip flushing and more blockages,
drains that have been poorly built block more easily,
when toilet waste mixes with playground dust – a toxic mud is produced,
because of this poor sanitation and a lack of hand washing facilities illness follows and school attendance drops.
lack of simple facilities to enable dental health such as water, toothbrushes and paste leads to over 90% of kids in the age nursery to grade 5 having some dental problems, unattended this will lead to pain suffering and in some cases death.
Onto bigger and harder issues such as the deep poverty that forces desperate, low caste families into losing young children to outside work, or worse child trafficing and climate change impacts on the nearby river, farming and industry.
These are complex problems. But the solutions come from many players and in many sizes. The solutions are an assemblage of increments, by many, over time. With skill and effort the quality of these small increments can resemble big thinking and may even produce a big idea.
the headmaster of 28 years sought help to assist the abjectly poor families to enable their children, particularly daughters, to remain at home and go to school. Attendance rates of boys and girls are equal which is quite an achievement.
design students from Australia, aided by staff and students from the school tackled the mud issue (see the news article about this
)
new toilets were designed to ensure boys and girls have enough private and clean toilets. Each toilet will have a tap for dip flushing, be well drained and have insect proofing to reduce flies and the spread of illness.
existing toilets will be repaired to improve their performance. The boys and girls toilet areas will have hand washing taps with adequate water and drainage.
there will also be a dedicated area for daily tooth brushing with water, and a custom designed box to keep tooth brushes and paste clean and secure. Teachers began training to allow them to instruct children in dental health and run the tooth brushing program. Urgent dental work will be completed by a visiting dental team during the construction phase of the project.
HH hopes that health will improve through the many small
ideas and actions contributed from a broad range of local, national and international skilled and committed thinkers.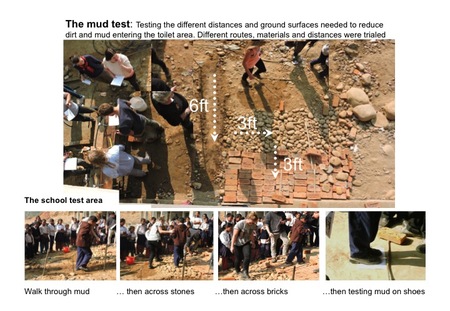 Solving the mud problem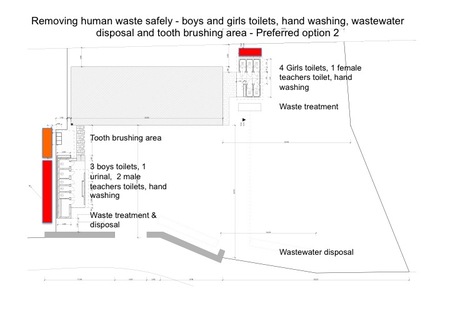 Adequate, private well designed and functioning toilets, hand washing and tooth brushing areas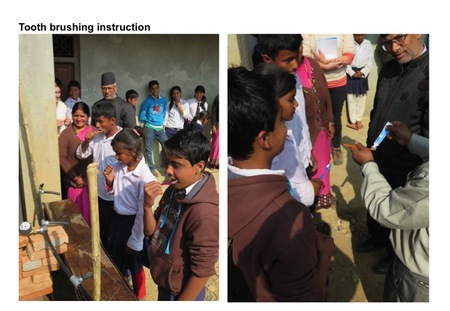 Starting the tooth brushing program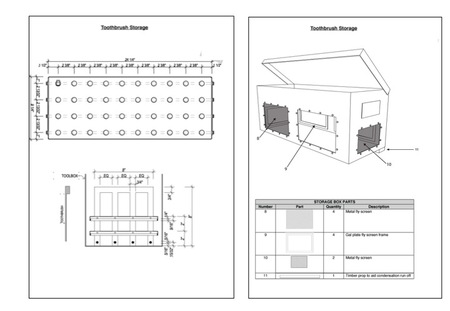 The student designed tooth brush box … it looks simple but has a very complex brief.